July 2021 Update: I've added a WiFi-enabled printer to the list. Click here to jump to it or click here to read the full review. I've also used it to replace the Zebra unit.
Anyone who has spent more than a few minutes trying to ship something to their customers knows that a good label printer makes or breaks the process. With the number of shipping label printers on the market, it can be daunting to figure out which suits your business' needs the most. In this article, we'll look at a handful of shipping label printers and identify which you should look at and work skipping over.
Why Use a Dedicated Thermal Shipping Label Printer
There's an easy and understandable argument for using the printer you already have to print your shipping labels. For most, that's their existing inkjet or laser printer, printing onto 8 1/2″ x 11″ sheets of paper and folding them in half.
The downside with this is mostly waste. Typically, this includes half of the paper sheet going to waste, and ink or toner is consumed more frequently. With a thermal shipping label printer, no ink is used, and in some cases, you can acquire entirely free shipping labels on which to print.
Pair that with any real volume, and I'll bet dollars to barcodes that the math would make a thermal printer real attractive real quick.
The Best Thermal Shipping Label Printers
There are literally dozens of options on the market to choose from, depending on the budget and the volume of labels you'll need to print. This list is broken down into three major groups: what works for most people, recommendations for high volume users, and alternatives I can't really recommend but are good to point out, nevertheless.
FreeX Wireless Thermal Label Printer
Best WiFi-enabled printer at this price point; also a great USB printer, too.
The crew at FreeX offered to send me a copy of their WiFi-enabled thermal shipping label printer and I couldn't say no! I love checking out new tech, especially for us e-commerce folks. Go read my full-length review here, but to sum up my experience: it's a fantastic WiFi unit that is unbeatable at its price range (under $200). Even if you don't use it as a WiFi printer, it rivals some of the pricier units. So much so, I've actually removed the Zebra unit in favor of this one. There is no real good reason to pay $100+ more for the same functionality.
Save An additional $50 with code FREE50 at checkout!
*with $50 discount
Dymo 4XL
Best for low volume shippers that use roll labels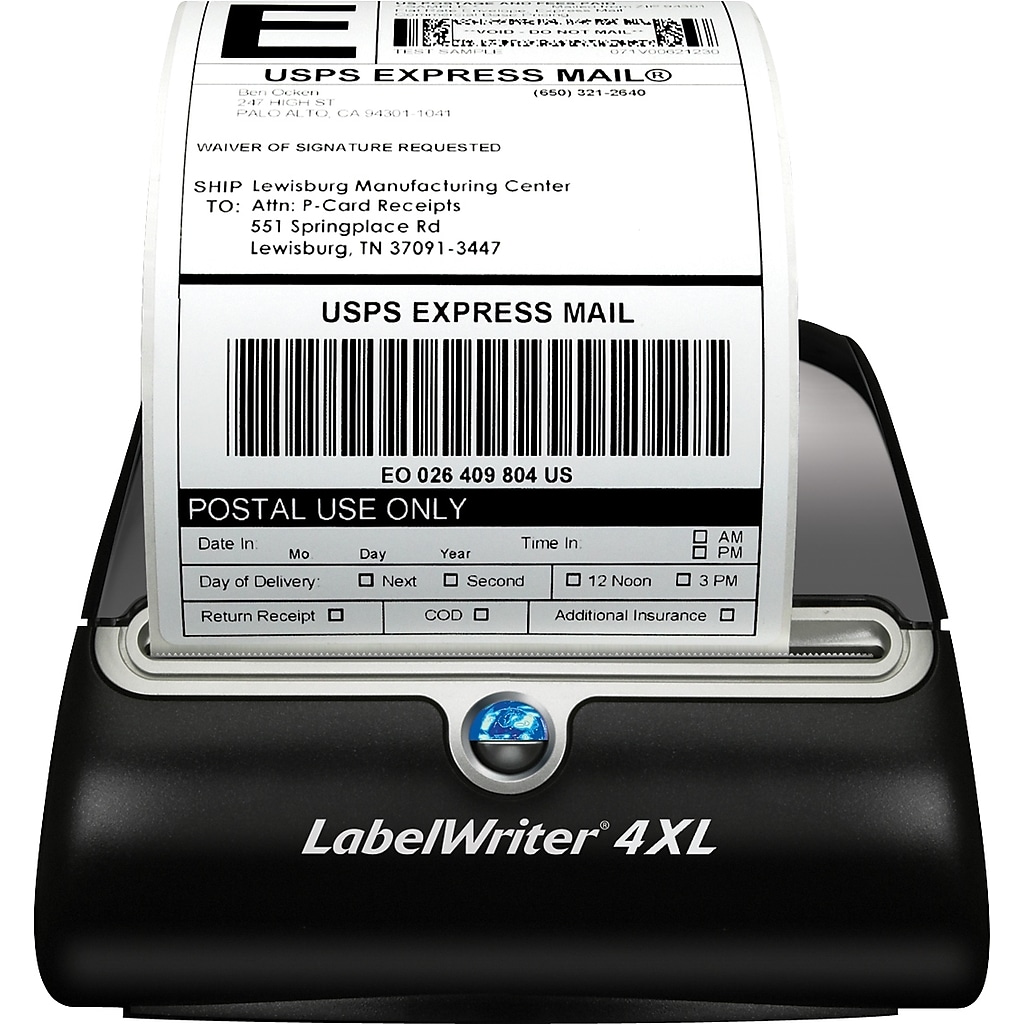 One of the stalwarts in the industry, Dymo is known as the go-to for many users. Unlike the rest of the printers on this list, it's easy to find Dymo printers, with the Dymo 4XL existing in most retail office supply stores. I'm a Dymo user myself (I have the 450 Turbo for addresses and SKU labels) and greatly enjoy the quality. The quality carries over into the larger 4″ x 6″ label size, too.
The Dymo software is decent. It's nothing I would write home about, so to speak, but I also believe that for most of us, we wouldn't be using the Dymo software most of the time, if at all, anyway.
My biggest qualm with the Dymo 4XL is the price. If you can find one new in the box from an authorized reseller (many are not authorized sellers of Dymo products), it rivals others' prices on this list.
Additionally, the Dymo 4XL doesn't support feeding labels from outside the printer. Only label rolls that can fit inside the printer are supported, which takes larger, bulk-quantity label rolls off the supplies list, adding to cost.
The Rollo Printer
Best for low volume shippers that use fan-fold labels and want to save $60 for similar output capability
I put the Rollo on the list not because it's an underdog that'll blow all these other printers away–it is, frankly–but because it's just straight good, and a just straight good printer is often enough for a lot of folks. Its price is hyper-competitive compared to the Dymo, too, so it's hard not to evaluate it.
At roughly 1/2 the Dymo 4XL and equivalent Zebra printer price, it's an attractive entry point into the thermal-printing space. It's also an interesting format in its rectangular shape and convenient feed mechanism (in the back, out the front). However, this also means that you'll be finding yourself getting a holder of some kind for those with rolls, which adds to the cost. The Rollo is really designed for fan-fold labels since they can sit nicely behind the printer without any additional support or hardware.
The Rollo is compatible with every shipping solution that would work with anything else on this list, making it a great option for those that see the higher-priced items on this list and have a hard time finding extra value in the higher price tags.
In my original remarks, I had mentioned the experience felt subpar. My experiences were based on my usage of the printer in 2019. Now in 2021, the Rollo printer and the company (also Rollo) that makes it has improved dramatically. The support experience is much more fine-tuned, and documentation is a lot better.
I wrote this article in June 2020, and since then, Rollo launched its own shipping software to compete with the big players. At just $0.05/shipment, it's definitely right up there in terms of price.
Zebra ZT230
For high-volume shippers that need to print hundreds of labels per day, minimum.
The ZT series is a big boy, a chunk of a printer, but its heft and bulk translate into a real thermal printing machine. While it's twice the price (most of the time) of the GC/GK-series Zebra printers, it's also by far the most capable.
Side-loading of label rolls is standard, as well as a blistering 6″/second print speed. For those doing the math at home, that's one label per second. It also boasts a higher DPI print quality at 300dpi, meaning labels come with better detail, and those barcodes will be even more crisp, giving beaten-up barcode scanners less of an excuse to work right.
If you order your supplies by the 1000s, you'll be pleased to see that 8″ rolls are supported. Specifically, for those that get their labels from UPS, the massive label roll they send you will fit snugly inside without issue. The ZT230 supports all the label feed formats: continuous, die-cut, hole, and black-mark.
I really wasn't joking when I said it's a big one, though. At 20 lbs, it'll need a nice, sturdy place to sit.
The Seller Journal Recommendations
Each of these printer options has a lot of overlap with the others, so the boundaries are blurry, to say the least. With that said, there are a couple of clear choices for most folks, and here they are:
Your First Thermal Printer: Rollo Printer
We all start somewhere, and while I can appreciate jumping up to the big printers, the Rollo is almost 1/2 the cost of my next recommendation. Even with a holder to hold rolls (about $20), it's still an incredibly competitive option.
For Roll Label Users: Zebra GK420D
The GK420D will be the printer that lasts you years. It has the capability to crank out hundreds per day and, with minor maintenance, will keep serving for years. Its downside of not being able to hold large label rolls (like from UPS) is a minor one and can be offset by an external label roll holder and feeding from the back of the printer.
For High Volumes: Zebra ZT230
If you find yourself printing high volumes of labels per day, say more than 100, I'd spring for the ZT230. With support for larger 8″ rolls, it'll hold upwards of 1,000 labels at a time, and the faster print speed will get those labels out faster. Like the GK420D, this printer will faithfully churn out labels for years.
Last Updated: July, 15th, 2021 at 04:04 am UTC